Introducing Daniel and Maycol
Daniel and Maycol came into my life when I decided to support two other children with Compassion after
Hamisi
.
Both Daniel and Maycol are from Colombia, a country where drug trafficking is a serious problem. Common health problems in Daniel and Maycol's areas include respiratory disorders, bronchitis, and malnutrition.
Daniel lives with his father and mother. His father is employed and his mother maintains the home. There are two children in the family and Daniel is responsible for cleaning around the house. Playing with toy cars, playing ball games and reading are Daniel's favourite activites. Daniel's performance in school is average and he also regularly attends church activities.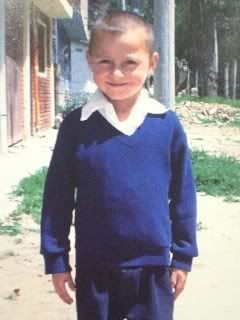 Maycol makes his home with his father and mother. Making beds, running errands and cleaning are his household duties. His father is employed and his mother is sometimes employed. There are two children in the family. As part of Compassion's ministry, Maycol participates in Bible class. He is also in kindergarten where his performance is above average. Soccer, playing with cars and bicycling are Maycol's favourite activites.
Boring plaster
I received a letter from Maycol this week and among other things he told me he fell down on the street in June and had a heavy cast on his left arm which was boring! Months usually pass before the letters get translated, forwarded, and delivered. I wish it hadn't been so long before I got the news, and it'd be another 3 months or so before my words could reach back to Maycol. But being able to exchange letters with him and the other boys several times a year does foster a closer bond between us. I have yet to hear about other child sponsorship programs that makes it as special as
Compassion
does.
Labels: Compassion International, Daniel, Maycol