Introducing Hamisi
The information package of my sponsored child arrived on Monday. The child's name is Hamisi, a boy of 9 years from Tanzania. Hamisi lives with his father and mother. He is responsible for helping in the kitchen, running errands and cleaning. His father is sometimes employed and his mother is sometimes employed as a seller in the market. There are 6 children in the family. Soccer, playing with toy cars and playing ball games are Hamisi's favorite activities. Hamisi is presently in kindergarten and he also regularly attends Bible class.
Hamisi lives on the plains of Mwenge, home to approximately 325,000 residents. Typical houses are constructed of dirt floors, mud walls and corrugated iron roofs. Common health problems in this area include malaria and typhoid. Most adults in Mwenge are unemployed but some work as subsistence farmers and earn the equivalent of 18 US dollars per month. This community needs agricultural improvements, employment opportunities, potable water and medication.
Tanzania
Tanzania's vast resources have helped create industries is tobacco, sugar, diamond and gold mining, cement and tourism. Yet Tanzania remains one of the poorest countries in the world. The economy depends heavily on agriculture, which provides 85% of exports and employs 80% of the work force. But topography and climatic conditions, however, limit cultivated crops to only 4% of the land area. It's estimated that nearly 1.7 million people, or 8% of adults in Tanzania, have HIV/AIDS. Nearly 100% of the country's population is native African.
Compassion International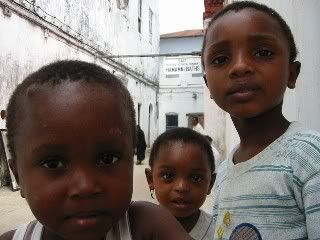 Compassion International exists in countries like Tanzania as a Christian child advocacy ministry that releases children from spiritual, economic, social and physical poverty and enables them to become responsible, fulfilled Christian adults.
As a Compassion sponsor, you will enable your sponsored child to participate in a church-based program that offers life-changing benefits including help with learning development, health care, social-skills development and Christian training -- opportunities and services that most of the world's poorest children simply cannot receive. You will have a meaningful connection between you and the child you support. The child you sponsor will know your name, write to you and benefit directly from your monthly sponsorship. In return you can help your sponsored child develop a sense of confidence and self-worth by the love you express through letters and prayers.
If you wish to make a difference in a child's life but for any reason cannot commit to sponsoring a child, you can make a one-time contribution through Compassion's Unsponsored Children's Program. Thousands of hopeful children are registered with Compassion but are waiting for sponsors. Your gift to the Unsponsored Children's Fund can help children see hope in Compassion's program by providing care until they find a sponsor.
Learn more about the Unsponsored Children's Fund
.
For more information on child sponsorship, visit
Compassion
. Also hear it from
Tom Emmons
who's been sponsoring children since 1984.
"And whoever welcomes a little child like this in my name welcomes me."

- Matthew 18:5

Labels: Compassion International, Hamisi